If you are the distributor, please contact info@dobeauty.net for the latest distributor price.
The stressful year, the most of us have not been able to visit the facial clinic as much as usual. Skin Problems as downturned facial muscles, congestion from mask-induced, ance, skin rough texture, inflammation, wrinkle appeared on unexpected way. Between stay-at-home order, the professional LED Light Therapy Skin Repairing Model will make you stroner dosed of light therapy to the face, high efficiency improve the skin acne, skin texture, elasticity, skin tones, shwoing the perfect face while the video onferencing.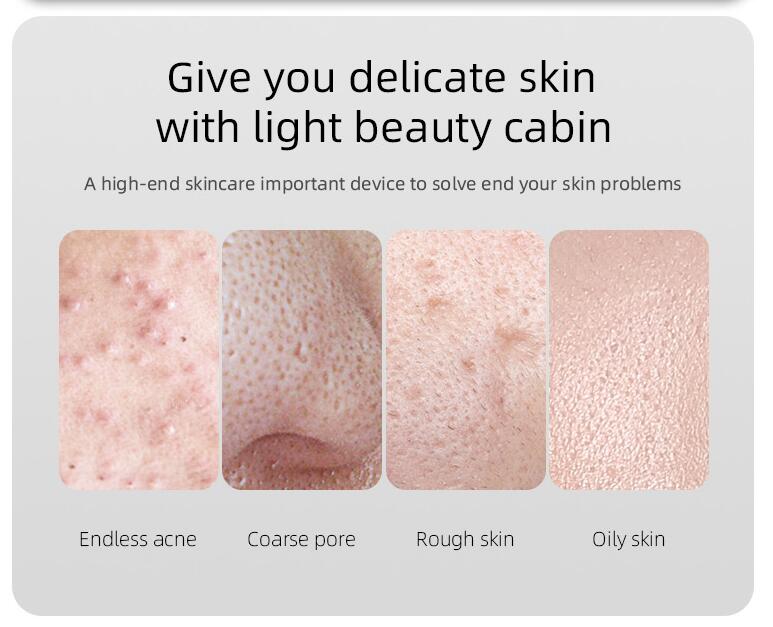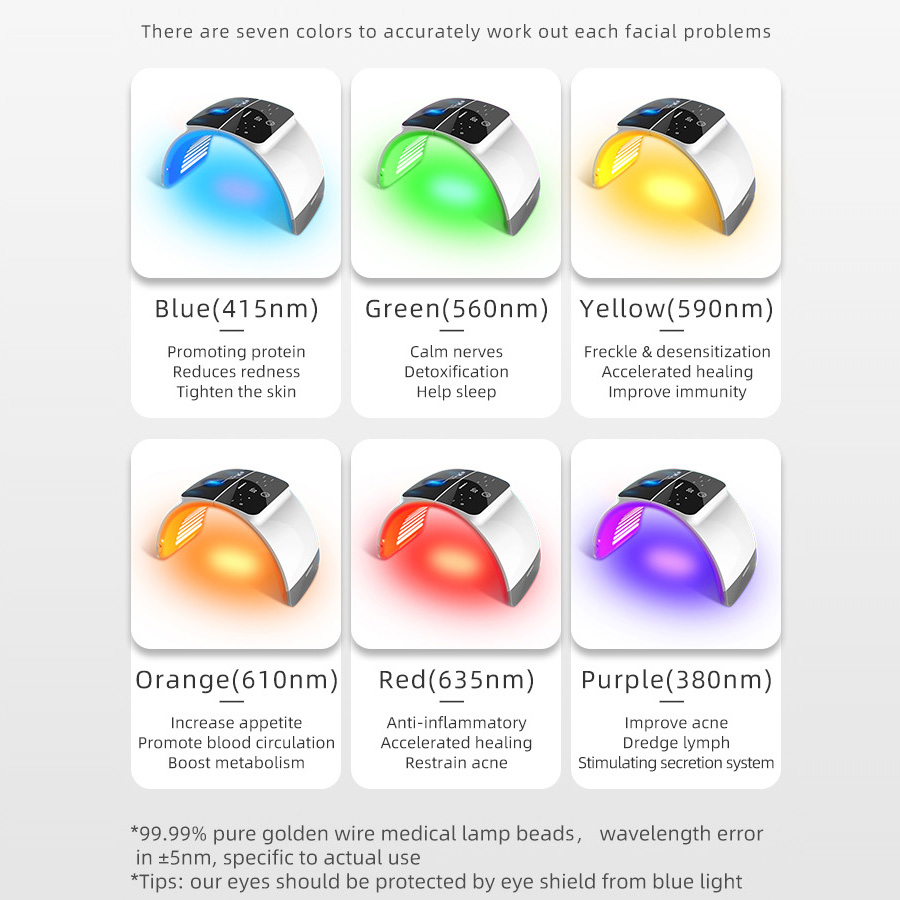 The 7 light wavelength application:

--Red: acne therapy, skin repairing, light acne scars, Treatment of allergic dermatitis
--Green: sensitive skin calm
--Blue: Kill acne bacteria, make sebaceous glands
--yellow: Improve skin erythema, Relieve skin redness
--Orange: Promotes blood circulation and accelerates metabolism
--Purple: Activate skin cell, drainage toxin
Specifications:
Power: 36W, 12V-3A
LED quantity: 200pcs, IMD
Light mode: 7 light
3 pure light, Red/Green/Blue
3 mixed light, Yellow/Orange/Purple
1 Ca+ light, 320nm wavelength, UVB
Timer: 0-30minutes
Package: 45*35*30cm
Shipping package: 6units each CTN, 81.5*44.5*67.5CM

What is the quality of the original LED Light Therapy Skin Repairing Device from us:

We manufacturer the oringal LED model to Korea, Germany, UK, Spain, USA and so on:
-Ensure no color error with each production batch
-Ensure the noble and best looking of the color, not the poor grey color looking, the hoary.
-Ensure the top and sensitive touching panel control, now new update at talking control for easy and fashion
-Ensure perfect matching at each parts no irregular gap
-Ensure the best printing at the panel menu and the logo, with the transparent material, the best protection to the menu and logo, which keep new looking and avoid any scratching
-Ensure no light leaking phenomenon at the gap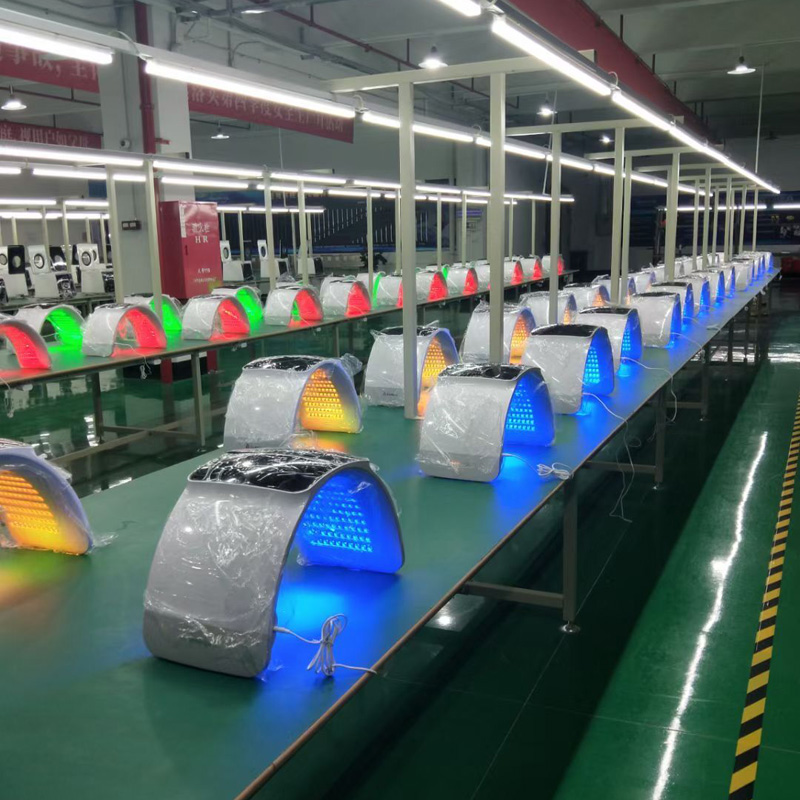 In order to make you the clear image in our model, you also can see the Youtube page as following:
--https://youtu.be/ybf4ETO9RvQ
--https://youtu.be/jQoEW0ddWyI
QUESTION & ANSWER
1.What is LED therapy?
LED light therapy works to increase the skin's wound healing response due to the promotion of collagen and elastin synthesis. It further prevents breakouts due to its anti-bacterial benefits, promotes an even skin tone, reduces inflammation and erythema in a sensitive skin, and can be used together with any advanced facial protocol such as Microneedling, Laser, IPL and Chemical Peeling.
LED Light therapy provides the Skin Care Professional with a non-invasive, non-ablative treatment tool that delivers customizable results without any downtime. Furthermore, the light emitted from the LED masque is non-thermal and does not contain any harmful UVA/UVB rays; therefore, it does not negatively impact the skin.
2.How it works?
LED light therapy has an established history of skin uses. The U.S. Navy SEALs began using it in the 1990s to help heal wounds quickly and to help regenerate damaged muscle tissues.
Since then, the treatment has been researched for different situations in aesthetics. It's mainly noted for increasing collagen and tissues. All of which can smooth out your skin and reduce the appearance of damage from:
* age spots
* acne
* wrinkles
There are different frequencies, or wavelengths, used with LED light treatment. These include red and blue light frequencies, which don't contain ultraviolet rays and are readily absorbed into the skin.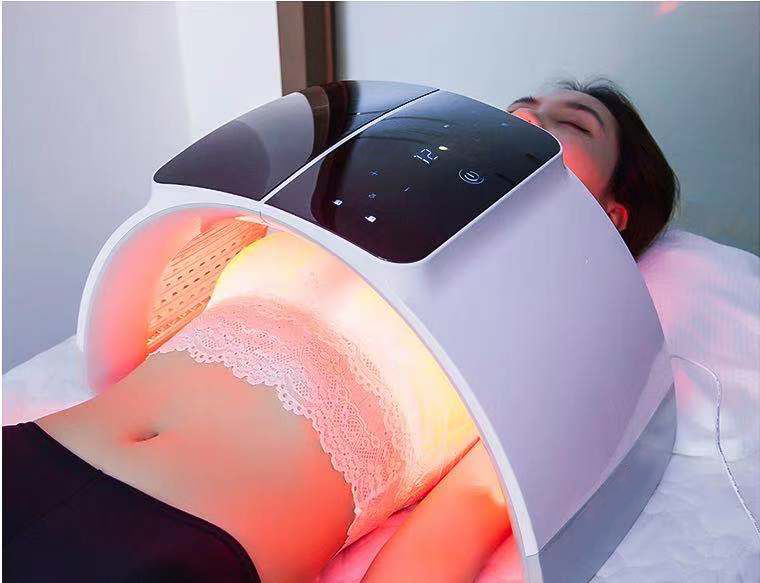 We are preferred vendor for most of the top hotels and resorts in the world with highest standards serving you. We understand how crucial it is to have good quality spa equipment and products to run your day spa salon or medical spa business therefore we evaluate and design every ingredient in all products.